Eastlake North High School

In Memory
Robert Hillier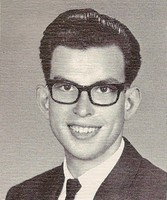 Robert G. Hillier
Funeral services for Robert G. Hillier, 59, of Eastlake, will be 10 a.m. Tuesday, July 29, 2008, at Jakubs-Danaher Funeral Home, 36000 Lake Shore Blvd., Eastlake.
Mr. Hillier died July 24, 2008, in Willoughby.
He was born June 18, 1949, in Bay Villiage.
He was a U.S. Army veteran of the Vietnam War. He was a member of V.F.W Post 3863 and American Legion Post 678. Robert loved camping.
Mr. Hillier was a retired welder. He had worked for E Manufacturing.
Survivors are his children, Scott, Tim and Trisha; and mother, Martha.
He was preceded in death by his father, Stanley.
Friends may call from 6 to 9 p.m. Monday at the furneral home. Pastor Gregory Bierbaum will officiate the service. Burial wll be in Western Reserve Memorial Gardens in Chester Township.