Eastlake North High School

In Memory
Carolyn King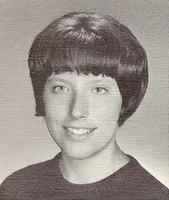 Carolyn King
A 27 year-old Willowick woman was fatally shot Wednesday in her Kent residence, police reported this morning. A 35 year-old man, with whom she lived, is being held in connection with the shooting.
Dead is Carolyn Jo King, a Kent State University student. The shooting occured shortly after 5 p.m. at 439 Francis St., where she lived with Ronald I Gritton, police said.
According to reports, the home belongs to Gritton's grandmother, Mrs. Venetta Gritton. Police said Gritton was sitting in a living room chair loading a handgun when it fired and shot Ms. King in the back.
Ms. King, the daughter of Mr. and Mrs. Joseph E King of 29256 W Willowick Drive, was pronounced dead on arrival at Robinson Memorial Hospital in Ravenna.
Her death is being investigated by Kent police, the Portage County prosecutor and coroner.
Gritton has been charged with involuntry manslaughter in the shooting death of this senior elementary education major. He will be arrained this morning in Kent Municipal Court.
Kent Police Capt. William Lillich said it could have been an accidential shooting.
Funeral arrangements are pending at the Orlando Funeral Home, 29550 Euclid Ave., Willowick.