Eastlake North High School

In Memory
Margo Buckeye (Dundon)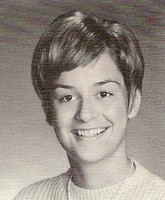 Margo Dundon (1950-2007)
Memorial services for Margo Dundon, 56, president and CEO of MOSH (Museum of Science and History) will be 10:30 a.m. Wednesday at St. Johns Cathedral in Jacksonville.
Dundon died Friday morning at Baptist Health Center -- Downtown. She had fought lymphatic cancer since October, succumbing from complications due to a respiratory infection.
Born Margo Buckeye on July 3, 1950, in Euclid, Ohio, she was the daughter of Elmer and Ruth Buckeye. She graduated from Eastlake North High School in Eastlake, Ohio, in 1968 and from Ohio University, Athens, Ohio, in 1972 with a degree in communications. She married Daniel Dundon on June 19, 1971 in Willowick, Ohio.
Dundon served as executive director of the Grout Museum of History and Science in Waterloo, Iowa, from 1979 to 1988. She relocated to Jacksonville in 1990 to accept the position at MOSH.
She was active in many national, state and Jacksonville civic and professional organizations. She was in the American Association of Museums Accreditation Program, past president of the Florida Association of Museums and a member of the Florida Historical Commission, the Ritz Theater and LaVilla Museum Board, Downtown Rotary Club and past president of the board of directors of the Jacksonville and the Beaches Convention and Visitors Bureau.
Survivors include her husband; two brothers, Rev. Dr. William Buckeye and his wife, Sheila, and Jack Buckeye and his wife, Janet, all of the Cleveland area; mother-in-law Betty Dundon of Elkton; and several nieces and nephews.
In lieu of flowers, donations may be made to the Margo Dundon Health Benefits Fund at MOSH.
Hardage-Giddens Hendricks Avenue Chapel Home is in charge of arrangemnts.
Published in St. Augustine Record on June 24, 2007
http://www.legacy.com/obituaries/staugustine/obituary.aspx?n=margo-dundon&pid=89619153