Eastlake North High School

In Memory
Anthony Bukys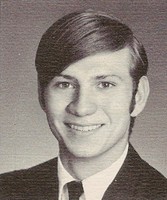 Anthony J. Bukys
Funeral mass for Anthony J. Bukys, 47 of Mentor, a machinist will be at 11:30 a.m. Monday at St. Mary Magdalene Catholic Church, 260 E. 321st St., Willowick.
Mr. Bukys died April 25, 1997, at Hospice House in Cleveland.
Born February 11, 1950, in Cleveland, he was a lifetime Lake County resident, living in Eastlake and Mentor.
He was a 1968 graduate of Eastlake North High School.
Mr. Bukys was employed by PMC Industries of Wickliffe for the past six years. Prior to that, he worked for General Electric at the Clevealdn Equipment Plant for 19 years.
Survivors are his wife, Karen L. (Burless); dauther, Kimberly Ann (Raymond) Cola of Mentor; son, Michael A. Bukys of Willowick; brothers, Eugene Bukys of Crosby, Texas, and John Bukys of Madison; and sisters, Stella Bukys of Geneva, Diana Spaller of Garrettsville and Elizabeth Zupancic of Eastlake.
His mother, Ona (Pabalyte), and sisters, Sophia Bukys and Anna Bukys, are deceased.
Friends may call from 2 to 4 and 7 to 9 p.m. today at McMahon-Coyne Funeral Home, 38001 Euclid Ave., Willoughby. Burial will be in All Souls Cemetery in Chardon Township.