Eastlake North High School

In Memory
Karen Burkhammer (Craft, Zupancic)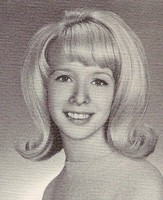 Karen L. Zupancic (Burkhammer)
Memorial services for Karen L. (Burkhammer) Zupancic, 60 of Eastlake will be 6:30 p.m. Wednesday at Monreal Funeral Home, 35400 Curtis Blvd., Eastlake.
Mrs. Zupancic died June 28, 2009, at home surrounded by her family.
Born January 11, 1949 in Cleveland, she had lived in Eastlake for the past 30 years.
She loved spending time and travelling with "The Junior Jolly Girls." Karen enjoyed gardening, arts and crafts.
The family would like to thank Hospice of the Western Reserve for their dedicated and loving care of Karen.
Mrs. Zupancic worked as a secretary for Rea & Associates Accounting Firm in Mentor.
Survivors are her parents, Betty (Ron) Anderson and W.E. "Gene" (Eleanor) Burkhammer; siblings, Gene (Maria) Burkhammer, Beverly (William) Schaffer, Donna Nagel, Judy Doan, James (Donna) Burkhammer, Joyce (Rudy) Fedarko and Connie (Richard) Buchanan; nieces and nephews, Renee (Mark) Ergazos, Jeremy Burkhammer, Kimberly (Jeffrey) Cox and Nicole Schaffer; and uncles Charles "Bud" Rich, Jr. and Ross Burkhammer.
She was preceded in death by her husband, Frank Zupancic.
Friends may call from 5:30 p.m. until the time of the service Wednesday at the funeral home. Burial will be in All Souls Cemetery in Chardon, Township.