Eastlake North High School

In Memory
Robert Donovan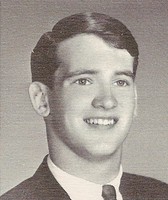 ROBERT M. DONOVAN JR.
1949 - 2012 Obituary
Robert M. Donovan Jr., 63, of Euclid, passed away Nov. 1, 2012, in Richmond Heights.
Born Sept. 12, 1949, in Cleveland, he had lived in Euclid for the past 26 years.
Funeral services will be held 10 a.m. Thursday at St. Gabriel Church in Concord Township.
Robert had a wonderful sense of humor and loved to garden, cook and bake.
He worked at Clevite in the foundry for 10 years.

Survivors are his wife of 35 years, Susan (Cochran); children, Michelle (Ron) Parsons, Kevin Gray and Matthew (Lisa) Gray; grandchildren, Caitlin and Bobby; and sibling, Patricia (Jerry) Toth. He was also an uncle and great-uncle to many.

Friends may call from 4 to 8 p.m. Wednesday at Jack Monreal-Laumer Funeral Home, corner of E. 320th St., and Vine St., in Willowick. Burial will be in All Souls Cemetery in Chardon Township.
In lieu of flowers, the family requests contributions in Robert's memory to Hospice of the Western Reserve, 17876 St. Clair Ave., Cleveland, OH 44110.
Published in www.News-Herald.com on Nov. 6, 2012