Eastlake North High School

In Memory
Bob Earley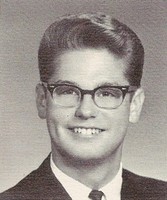 Robert E. Earley, Jr., Trade Magazine Executive
Robert E. Earley Jr., 49, who had worked for Advanstar Communications in Middleburg Heights and most recently was vice president of Intertec Publications, died of complications of a lung ailment Monday in Overland Park, Kansas.
Intertec is one of the largest trade magazine operations in the United States, and its headquarters is in Overland Park.
Mr. Earley, who was born in Cleveland, graduated from Eastlake North High School. He received a degree from Northwestern University's Medill School of Journalism in 1972 and worked for a time for the News-Herald newspaper in Willoughby. He was a past president of the American Society of Business Press Editors.
Mr. Earley is survived by his wife, Liz, whome he married in 1976; a daughter, Lianna; a son, Alexander; and seven sisters.
Services will be at 10 a.m. tomorrow at the St. Clarence Catholic Church, 30106 Lorain Rd., North Olmsted.