Eastlake North High School

In Memory
Irene Ernst (Bernard, Buckley)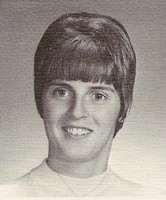 Irene (Ernst) Bernard
Funeral Mass for Irene (Ernst) Bernard, 58, of Willowick, will be 9:30 a.m. Saturday at St. Mary Magalene Church, 460 E. 321 St., Willowick.
Mrs. Bernard died November 4, 2008, at Hospice House in Cleveland.
Born February 10, 1950, in Cleveland, she had lived in Mentor-on-the-Lake before moving to Willowick 16 years ago.
She was a graduate of Huron Road Hospital School of Nursing and a member of the Alumni Association. She was a St. Mary Magdalene parishioner, Cleveland Ski Club member, obtained her teaching degree from CSU, was a gifted seamstress, possessed many creative skills in homemaking, and was a very compassionate, generous and selfless individual, who was always caring for others.
"To my children, I've always loved you and always will." Bible scripture: Well done good and faithful servant.
Mrs. Bernard was a registered nurse in the operating room at Euclid Hospital from 1971 to 1993, and a private scrub nurse and office nurse for Stanley Nahigian M.D. from 1993 to 1997.
Survivors are her devoted husband of 11 years, Jean Bernard; children Shawn F., Nathan J. and Heather M. Buckley; grandchildren; parents Robert F. Ernst Sr. and Edith (Cully) DiRenzo; twin brother, Rich W. (Sue) Ernst; siblings, Bobby F. (Nadine) Ernst, Carolyn Bastall and Kathy (Dan Andre') Bailey; and many nieces, nephews, great-neices and great-nephews.
She was preceded in death by her stepfather, Charles DiRenzo; and nephew, Matthew Bailey.
Friends may call from 4 to 8 p.m. Friday at Monreal Funeral Home, 35400 Curtis Blvd., Eastlake. Burial will be in Western Reserve Memorial Gardens in Chester Township.
In lieu of flowers, contributionsmay be made to the News-Herald Clothe-a-Child program or Cleveland Sight Center.