Eastlake North High School

In Memory
Janice Evaristo (Occhionero)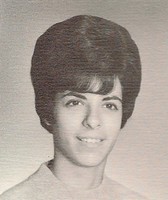 Janice Occhionero (nee Evaristo)
Janice Occhionero (nee Evaristo), beloved wife of Michael J.; dearest mother of Mark J., Matthew J. (Sarah), Michael J. "Jamie" (Kristen) and Daniel J.; loving daughter of the late Sam and Lena Evaristo and daughter-in-law of Edward (deceased) and Connie Occhionero; devoted grandmother of Sam, Samantha, Madalyn and new granddaughter expected January 2011; dear sister of JoAnn Hall (Donald); mother-in-law of Kristen, Sarah and Vicky; sister-in-law of Don Hall, Edward Occhionero, Jospeh Occhionero, Barbara Occhionero and Janice Holtz; dear aunt, cousin and friend of many.
Janice was a devoted and loving wife, mother, grandmother and sister who waged an almost six year battle against cancer. She absolutely refused to allow this desease to define her or her life; instead she attacked the disease with the sense of purpose and deep faither in God that became an inspiration to her family, friends and devoted caregivers at the Cleveland Clinic. Her strength, love and sense of family will be her legacy to her children and grandchildren and to all who loved her.
In lieu of flowers, contributions may be made in her memory to Holy Rosary Church 12021 Mayfield Rd., Cleveland, Ohio, 44106, where Janice was a devoted parishioner.
Mass of Christian Burial 10:00 a.m. Wednesday, August 4, at Holy Rosary Church. Entombment Lake View Cemetery. The family will receive friends to honor and pay one's respects to Janice at the DiCicco and Sones Funeral Home, 5975 Mayfield Rd., Mayfield Hts., Tuesday, 1:00-8:00 p.m.