Eastlake North High School

In Memory
James Hanna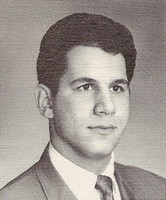 James M. Hanna
Services for James M. Hanna, 41, of Eastlake, a kitchen designer and sales representative for Accent Kitchen Supply Co., in Willowick for the last 2 1/2 years will be at 10:00 a.m. Saturday at St. Maron Catholic Church, 1245 Carnegie Ave., Cleveland.
Mr. Hanna died Wednesday at home.
Born April 28, 1949, in Cleveland, he was a longtime resident of Eastlake.
He was a member of St. Justin Martyr Catholic Church in Eastlake and a former member of St. Maron Catholic Church in Cleveland.
Mr Hanna served in the Navy from 1968 to 1970.
Survivors are his wife, Bonnie (Bartholonew); sons, Bernard and Brandon, both at home; and brother, Mark A. of Chester Township.
His parents, John E. and Anna, and brothers, John E. and Lawrence T., are deceased.
Friends may call from 2:00 to 9:00 p.m. Friday at Davis Trust 100 Funeral Home, 4154 Clark Ave., Willoughby. Burial will be in Calvary Cemetary in Cleveland.