Eastlake North High School

In Memory
Raymond Karpovitch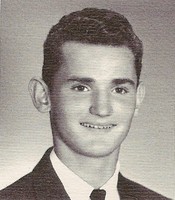 Raymond J. Karpovitch
Graveside services for Raymond J. Karpovitch, 44, of Eastlake, a truck driver, will be held at 3 p.m. Monday at Willoughby Cemetery, Plains Road.
Mr. Karpovitch died August 4, 1995, at Hospice House in Cleveland.
Born October 2, 1950, in Philadelphia, PA, he was a lifelong Eastlake resident.
He was a member of St. Mary Magdalene Catholic Church in Willowick.
He was a truck driver at Robotic Entertainment.
Survivors are his sons, Raymond and Christopher, both of Mentor; one grandson; mother Mary (Zych) Karpovitch of Eastlake; brothers Joseph J. of Knoxville, TN, Geralk J. of Eastlake and Richard J. of Mentor; and several nieces and nephews.
His father, Joseph J., is deceased.
Arrangements are being handled by Monreal Company Funeral Home in Eastlake.