Eastlake North High School

In Memory
Lynn R Lawton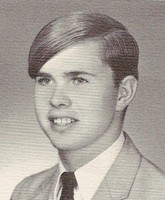 Lynn R. Lawton
Funeral services for Lynn R. Lawton, 57, a lifelong Lake County resident, will be 11 a.m. Tuesday at Brunner-Nixon Funeral Home & Cremation Service, 176 N. State St., Painesville.
Mr. Lawton died June 9, 2006, at Cardinal Woods Nursing Facility in Madison.
He was born April 24, 1949, in Painesville.
He was a 1968 graduate of North High School where he starred in track. He loved pinochle, horse shoes, dancing and the Cleveland Browns. He was a veteran of the U.S. Army.
Mr Lawton was owner/operator of the former Lawton's Cleaning Services in Lake County for many years. He also worked in maintenance at St. Ignatius High School for 10 years.
Survivors are his wife, Theresa (Watson); daughters, Kari Sams of Ashtabula and Susan (James) Earle of Madison; seven grandchildren; one great-grandchild; sister, Darlene (Harvey) Strausbaugh of Rock Creek; and brothers, Sgt. Major Leslie (Joyce) Lawton of Houston, Texas, James (Donna) Lawton of Peoria, Arizona and Kenneth (Halle) Lawton of Deerpark, Texas. He also leaves his lifelong friend, Ron (Hollie) Scott of Buda, IL.
He was preceded in death by his daughter, Tracey Siford; wives, Mary Lou Smith and Loretta Davis; parents, Leslie and Alice Lawton; and sister, Diane Crouse.
Friends may call from 10 to 11 a.m. Tuesday at the funeral home. Graveside services will begin 2 p.m. Tuesday at Erie County Memorial Gardens, 7080 Edinboro Road, Erie, PA.
Contributions may be made to the Lynn R. Lawton Memorial Fund, c/o Brunner Funeral Home.