Eastlake North High School

In Memory
Allen Meyers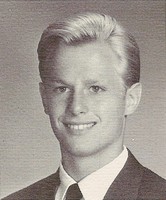 ALLEN EDSON MEYERS
1950 - 2016
Allen Edson Meyers was born in East Lake, Ohio on March 23, 1950. He was born from the union of Edson "Ed" Meyers and the late Jane (Houston) Meyers. Allen was a 1968 graduate of Willoughby High School in Ohio. From 1968-1970 he attended the Virginia Ferrell Beauty School.

Allen would meet the love of his life: Gregory Mark Beaubien in a small bar.

They became an inseparable pair together attending L'Oréal Salon International Coloring Beauty School in New York, New York graduating in June of 1971. Allen also attended the Ohio State University where he participated in swimming and diving.

For many years the couple owned and operated Gregory and Allen's Unisex Salon in Monroe, although Allen retired due to vascular narcosis at the age of 39. They loved to travel and often spoke fondly of their Hawaiian vacation, saving five years, to live it up big.

Allen was gifted in the arts and not only did he have the ability to make others feel great about themselves, he loved to use calligraphy. He collected paper weights and gem stones which often became rings. He loved the outdoors and the freedom that boating and fishing afforded him. He also loved the peaceful sight of a butterfly.
Allen Edson Meyers, age 66, of Monroe passed away at 7:54pm on Saturday, September 24, 2016 at home under the care of ProMedica Monroe Hospice. In addition to his mother; his passing was preceded by a brother: Charles "Skip" Meyers; Greg's brothers: Dr. John Paul Beaubien and Thomas Beaubien.

To cherish his memory, Allen leaves his partner of more than forty-five years: Gregory Mark Beaubien; his father: Edson "Ed" Meyers and step mother: Lucy; two brothers: Bob (Anna) Meyers and George (Kathy) Meyers; Greg's family, brother: Ronnie (Donna) Beaubien; sister-in-law: Jane Beaubien; and several nieces, nephews, and cousins.

Friends may gather on Saturday, October 1, 2016 from 2:00pm until 7:00pm at Merkle Funeral Service, 2442 North Monroe Street (734) 384-5185. A Celebration of His Life will follow at 7:00pm with Chaplain William Fink of Promedica Monroe Hospice to officiate.
Published in Monroe News on Sept. 29, 2016