Eastlake North High School

In Memory
Darin Sue Mulleady (Fox)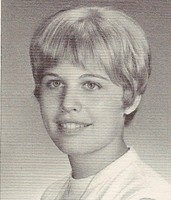 Darin Sue Fox
March 9, 1950 - July 5, 2017
Darin Sue Mulleady-Fox (67) passed away on July 5th after losing her battle with non-Hodgkin's lymphoma. She was born on March 9, 1950 in East Cleveland, OH. Her father Edmund Mulleady and mother, Joan, preceded her in death.
Darin was a devoted mother and wife first and foremost. Some of her other endeavors were bowling league secretary, soccer referee booker, store cashier, car salesperson, real estate agent, Sunday school teacher and human resource manager. After family, her gratest passsion was photography. She loved to travel and take pictures of the places she'd been. Her philosphy was that if she didn't have a picture of it, she hadn't been there. She also enjoyed taking family pictures as well as pictures of any person, place, or thing she came across.
Darin is survived by her husband of 45 years, Kevin. Also by her daugher, Kendra and husband, David Pless of Titusville, FL; her son, Chris Fox and his wife, Suzanne of Seattle, WA and her son, Brian Fox and his wife, Terri of Charleston, SC. Her nine grandchildren are: Alexandra Pless, Kaitlin Pless, Jeremy Pless, Nathan Pless, Zachary Pless, Jane Fox, Eloise Fox, James Haselden and Aiden Fox. She is also survived by her brother, Mike Mulleady and his wife, Cindy of Port St. Luci, FL. Her 23 nephews and nieces, as well as, numerous grand nephews and nieces, all got to experience posing for "Aunt Darin's" pictures.
A funeral Mass will take place at 1 p.m. on Saturday, July 15 at St. Joseph's Cahtolic Church (in the Chapel) in Marietta, GA. A Memorial Mass will be held at a later date in MN. Interment will be at St. Mary's Cemetery in Waseca County, MN.
In lieu of flowers, the family requests donations be made to Galilean Children's Home, PO Box 880, Liberty, KY 42539-0880, or a children's charity of your choice.