Eastlake North High School

In Memory
Pat Naugle (Stakich)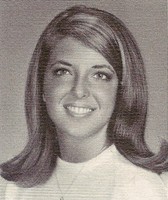 Patricia A. Stakich
Patricia A. Stakich, 28, of 7560 Texas Avenue, Mentor, died Wednesday at Lake County Memorial Hospital, Willoughby.
Born November 15, 1950 in Hagerstown, MD, she had been a resident of Lake County for 20 years.
She was a member of St. John Vianney Catholic Church and a 1968 graduate of Eastlake's North High School.
She is survived by her husband Dale A; daughter Kirsten A; son Ryan D; parent Karl and Juanita Naugle and brother Karl Jr., all of Willoughby.
Services will be at 1 p.m. Friday at McMahon-Coyne Funeral Home, 38001 Euclid Ave., Willoughby. Burial will be at Mentor Cemetery. Visitors mya call from 12 to 1 p.m. Friday.