Eastlake North High School

In Memory
Shirlee A Oblocki (Chamness)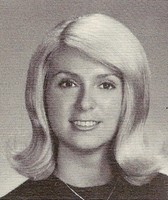 Shirlee A (Oblocki) Chamness
A Funeral Mass for Shirlee A. (Oblocki) Chamness, 56, of Largo, FL., will be 9:30 a.m. Thursday at St. John Vianney Church, 7575 Bellflower Road, Mentor.
Mrs. Chamness died January 24, 2008, at her residence.
She was born March 29, 1951, in Cleveland and was a former resident of San Francisco.
She is survived by Husband, Wally Chamness of Largo, FL; mother, Virginia (Patrick) Trivisonno of Mentor; sister, Donna Rechner of Concord Township; nephew, Gregg (Cyndi) Rechner of Mentor; and great-nephews, Alex and Josh Rechner.
She was preceded in death by her father, Vincent Oblocki.
Inumment will take place in Calvary Cemetery, Cleveland.
Contributions may be made to Lake Humane Society, 6564 Tyler Blvd., Mentor, OH 44060.
Arrangements entrusted to Brunner Funeral Home and Cremation Service, Mentor.