Eastlake North High School

In Memory
Fred Reith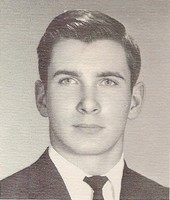 FRED R. REITH JR.
1950 - 2011 Obituary
Fred R. Reith Jr., age 60, of Harpersfield Township, passed away early Wednesday morning, Jan. 5, 2011, at Lake West Medical Center in Willoughby.

He was born April 12, 1950, in Cleveland.

He will be very sadly missed by his family.

Survivors are his wife of 36 years, Lynn D. Reith (Scaffidi); three sons, Fred III (Michelle), Robert (Cristy Conrad), and Tom (Gloria Appleton); sisters, Margaret (Harry) Dodds, Robin Faranacci and Gale (Ed) Lakes; nine grandchildren; four nieces; and three nephews.

Calling hours will be held from 2 to 6 p.m. Sunday, Jan. 9, 2011, at McMahon-Coyne-Vitantonio Funeral Home, 38001 Euclid Ave., Willoughby, OH 44094.
Published in News-Herald from Jan. 7 to Jan. 8, 2011