Eastlake North High School

In Memory
William Rickard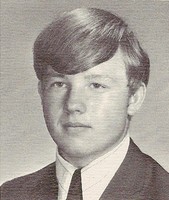 William "Bill" Rickard
William "Bill" Rickard, 48, of Brentwood, CA, formerly of Willowick, died September 16, 1999 in Brentwood.
Born October 11, 1950, in Cleveland, he lived in Willowick before moving to Brentwood 13 years ago.
He was a member of Mignificat Knights of Columbus Council of Willowick.
Survivors are his wife, Connie (Steimle); son, William of Brentwood; daughter, Gretchen of Alaska; grandsons, Eric and Aaryn, both of Brentwood; sisters, Margaret Branovic and Betty Fiorilli, both of Timberlake; nieces and nephews; and great-nieces and great-nephews.
His parents, Howard and Mary Rickard, are deceased.
Burial will be in Antioch, CA.
He will be missed by family and many friends. He touched all of us by his warmth and love.