Eastlake North High School

In Memory
Connie Rowles (Cimas)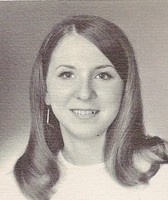 Connie Anne Cimas
Services for Connie Anne (Rowles) Cimas, 60, of Willoughby, will be 11 a.m. Friday, December 18, 2009, at David-Babcock Funeral Home, 4154 Clark Ave., Willoughby.
Mrs. Cimas passed away Tuesday, December 15, 2009, at her home, surrounded by her family and friends after a courageous battle with cancer.
Born February 25, 1949, in Cleveland, she had lived in Lake County for more than 20 years.
She most enjoyed spending time with her family and friends, and traveling. She was a graduate of Eastlake North High School, Class of 1968.
Mrs. Cimas was a customer service representative for Barnes Distribution (formerly Bowman Distribution) in Cleveland for the past 29 years.
She is survived by her sons, Brian C. Cimas of Mayfield Heights and Michael J. Cimas of Willoughby; mother, Charlotte (Jenkins) Conger of Willoughby, and her brother, Daniel "Red" (Nona) Rowles of Eastlake. She also leaves many nieces and nephews and their families.
Her step-father, John Conger; and brother, Frank Rowles, are deceased.
The family will receive friends from 9 to 11 a.m. Friday at the funeral home. The Rev. Robert A Gaston will officiate at the service. Final resting place will be in Western Reserve Memorial Gardens in Chester Township.
The family encourages contributions to Hospice of the Western Reserve, Inc., 5786 Heisley Road, Mentor, OH 44060.