Eastlake North High School

In Memory
Bonnie Schaen (Kushian)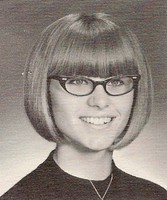 Bonnie Lee Kushlan (Schaen)
The family of Bonnie Lee Kuslan, 39, a 17-year Chardon Township resident and mother of two, suggests contributions be made to Hospice of Lake County, 5786 Heisley Road, Mentor, OH 44060.
Mrs. Kushlan died yesterday at Lake West Hospital in Willoughby after a lengthy illness.
Born December 3, 1949, in Cleveland, she lived in Willoughby before moving to Chardon Township. She worked for six years as a cashier at Kressie's Bi-Rite in Chrdon Village. She was a member of Kennesse Campgrounds.
Survivors are husband, Charles; son, Erik Van Kushlan at home; daughter, Kimberly Kay Kushlan at home; prents, Ronald and Marion Cunningham of Eastlake; brother, Thomas Cunningham of Mentor; and sister, Cheryl Roark of Concord Township.
There are no calling hours or funeral services. Funeral arrangements are being handled by the Monreal Co., a Guardian Plan Funeral Home, 35400 Vine Street, Eastlake.