Eastlake North High School

In Memory
Roger Stolar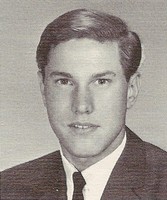 Roger P. Stolar
Services for Roger P. Stolar, 48, of Eastlake, a financial accountant, will be 10 a.m. Monday at St. Mary Magdalene Catholic Church, 460 E. 321 St., Willowick.
Mr Stolar died November 11, 1998, at Lake East Hospital in Painesville.
Born April 17, 1950, in Euclid, he lived in Willowick before moving to Eastlake 29 years ago.
He was a member of St. Mary Magdalene Church in Willowick and played bass guitar in several area bands including, Bradford White, Hippies and The Instrumental Band, The Quests. He was an avid athletic coach for the City of Eastlake and participated in several local, state and world tournaments in softball. He enjoyed walking, hiking and biking. He was a member of Western Reserve Whellers bike club and was everybody's friend.
Mr. Stolar was employed by General Electric in East Cleveland for 30 years.
Survivors are his wife, Debby Vesco; first wife, Joann Marie Stolar; sons, Jason Scott (Chrissy) Stolar of Eastlake and Michael Paul (Rosemary) Stolar of Eastlake; daughter Julie Ann (Chuck) Stolar of Eastlake; granddaughter, Krista Michelle; mother, Irene M. (Szucs) Stolar of Willowick; sister, Lana (Ray) Bittner of Mentor-on-the-Lake; and many loving nieces and nephews.
His father, Valentine Stolar and brother, Jeffrey Stolar, are deceased.
Friends may call 2 to 4 and 7 to 9 p.m. Sunday at Monreal Funeral Home of Eastlake, 35400 Vine Street. The Rev. Joseph Goebel will officiate services.
The family suggests contributions to your favorite charity.