Eastlake North High School

In Memory
Sandra Swanner (Cunningham)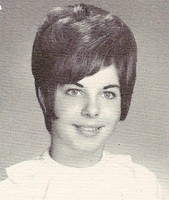 SANDRA (SWANNER) CUNNINGHAM
1950 - 2013
Sandra (Swanner) Cunningham, 63, of Willowick, died Dec. 9, 2013, from complications of lung cancer at her home surrounded by her family.
Mrs. Cunningham was born Oct. 24, 1950, to Vialma (nee Mejaski), of Mentor and the late Thomas Swanner.
Sandra is survived by her children, Stephen (Chris) Merrell of Eastlake, Tina (Dean) Diehl of Mentor and Richard Cunningham III; granddaughter, MaKenzie Merrell; siblings, Sue (Joe) Zsak of Willoughby, Sherrie Kirchner of Eastlake and Les (Petra) Swanner of Mentor; mother-in-law, Shelvy Cunningham; brother-in-law, Jeff Cunningham; and many nieces, nephews and friends.
Sandra is preceded in death by her husband, Richard Cunningham II; father, Thomas (Phyllis) Swanner; father-in-law, Richard Cunningham; and brother-in-law, Kenneth Kirchner.
Services will be private.
Published in www.News-Herald.com on Dec. 13, 2013