Eastlake North High School

In Memory
Colleen Troy (Clapp)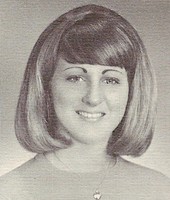 Colleen A. (Troy) Clapp
Funeral mas for Colleen A. (Troy) Clapp, 51, of Mentor, will be held 10:30 a.m. Saturday, at St. Bede the Venerable Church, 9114 Lake Shore Blvd., Mentor.
Mrs. Clapp died December 25, 2001, in Lake West Hospital in Willoughby.
She was born August 3, 1950.
A member of St. Bede the Venerable Church, she also belonged to Mentor Schools PTA and was active at Sterling Morton School.
Mrs. Clapp was a homemaker, active with the Girl Scouts and Boy Scouts of America.
Survivors include her children, Ryan T. and Kelly M. Clapp, both of Mentor; mother, Marjorie I. (Farrell) Troy of Willowick; brothers, John F. Troy and Danile P. Troy of Willowick and Thomas B. (Donna) Troy of Chesterland, Kerry J. Troy of Willowick; sister Mary M. (David) Stark of Mentor; nephews, Matthew and Benjamin; nieces, Molly, Megan and Bridget; and former husband Timothy.
Friends may call from 2 to 4 and 6 to 9 p.m. Friday, at the mcMahon-Coyne-Vitantonio Funeral Home, 6330 Center St., (Route 615, north of Route 2), Mentor. Fr. John J Sullivan will officiate. Interment will be in All Souls Cemetery, Chardon.
Family suggests donations be made to her children in care of her family.