Eastlake North High School

In Memory
Frank Yoo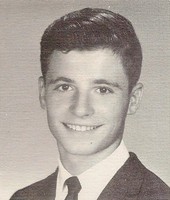 Frank J. Yoo, Jr.
Funeral services for Frank J. Yoo Jr., age 58, of Eastlake, will be 10:30 a.m. Wednesday, September 24, 2008, at Grace Church of Mentor.
Mr. Yoo died September 19, 2008, at Wickliffe Country Place.
He was born August 10, 1950, in Cleveland, Ohio.
He was a Wrestling Champion at Eastlake North High School, graduating in 1968, and was an All American Wrestler at Cleveland State University where he was "Athlete of the Year" for 1971-1972. He was a member of the National Realtor's Association.
Mr. Yoo was a realtor for Howard Hanna, Smythe-Cramer Willoughby Office.
Survivors are his wife, Terri (nee Sartini); daughter, Hannah; mother, Priscilla Yoo; brothers, Dave (Linda), Mark (Angela) and Paul (Christina); neices and nephews; and great-nieces and nephews.
His father, Frank J. Yoo Sr., is deceased.
Friends may call from 2 to 4 and 6 to 8 p.m. Tuesday at Brickman Bros. Funeral Home, 37433 Euclid Ave., Willoughby.