Eastlake North High School

In Memory
Janis Yuhas (Byers)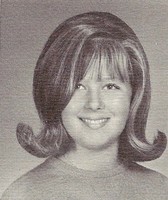 Janis Lynne Byers
Services for Janis Lynne Byers, 38, of Willoughby, a registered nurse, will be at 9:30 am. Wednesday at St. John Vianney Catholic Church, 7575 Bellflower Road, Mentor.
Mrs. Byers died Sunday at Lake West Hospital in Willoughby after a brief illness.
Born September 8, 1950, in Cleveland, she lived in Eastlake and Mentor before moving to Willoughby 24 years ago. She was a registered nurse at Cleveland Clinic. In her spare time, she enjoyed playing Bingo.
Survivors are her son, Ryan Christopher Byers; her mother and step-father, Mr. and Mrs. James (Joanne E.) Collins of Willoughby; sister, Julie A. Gillespie of Eastlake; brothers, Louis J. Yuhas Jr. of Eastlake and James E. Yuhas of Pontiac, Ill.
Her father, Louis J. Yuhas St, is deceased.
Friends may call from 2 to 4 and 7 to 9 p.m. Tuesday at McMahon-Coyne Funeral Home, 38001 Euclid Ave., Willoughby. Burial will be in Mentor Cemetery.
The family suggests contributions be made to American Diabetes Foundation, 2022 Lee Road, Cleveland, Ohio 44118.