Eastlake North High School

In Memory
Frank Zupancic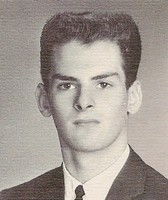 Frank J. Zupancic
Funeral Mass for Frank J. Zupancic, 50, of Eastlake, will be 10:30 a.m. Saturday at St. Justin Martyr Church, 35781 Stevens Blvd., Eastlake.
Mr. Zupancic died October 12, 2000, at his residence.
Born March 11, 1950, in Cleveland, he lived in Willowick before moving to Eastlake 27 years ago.
Mr. Zupancic was an auto technician for Clark Dodge in Mentor for 2 years.
Survivors are his wife, Karen (Burkhammer); brothers, Tom (Debbie) Zupancic and Tim (Betsy) Zupancic, both of Eastlake; sisters, Kathy (Pat) Sabo of Eastlake and Sue Zupancic of Mentor-on-the-Lake; and mother, Lillian "Emily" (Simenic) Zupancic.
His father, Frank J. Zupancic, is deceased.
Friends may call 2 to 4 and 6 to 8 p.m. today at the Monreal-Brickman Funeral Home of Eastlake, 35400 Vine St., just east of Route 91.
The family suggests contributions to the Frank J. Zupancic Memorial Fund.