Eastlake North High School

In Memory
Bruce Yee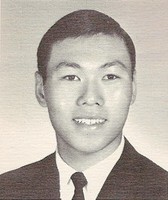 Bruce Yee
November 20, 1949 - August, 1967
North High School has lost one of its outstanding athletes and most popular students.
Seventeen-year-old Bruce Yee, 48 E. Shore Blvd., Timberlake, died of leukemia yesterday at Roswell Park Memorial Institute in Buffalo, NY.
Yee was selected as a member of the All Greater Cleveland Conference Footbal team last season, his junior year.
He played as regular defensive middle linebacker and offensive tackle since his first game as a sophomore.
He was rated as one of Ohio's outstanding football players by North High coaches and rival mentors.
He was selected last fall as a News-Herald "Player of the Week" and all-area dream team. He also was a valuable player on the North High baseball team. He was an outstanding student as well, and popular with North High students and faculty.
He was first hospitalized during Christmas vcation but recovered enough to return to school late in the winter and complete the school year.
Yee was born November 20, 1949, in Cleveland.
He is survivored by his parents, Henry and Lily Yee, and a brother, Gregory.
The family will receive friends from 7-9 p.m. today and 2-4 and 7-9 p.m. tomorrow at the Moneal Funeral Home, E. 320 and Vine Sts., Willowick, where services will be held at 1 p.m. Wednesday. The Rev. James Johnston of the Grace Episcopal Church will officiate.
Burial arrangements are pending at the funeral home.
"Dedicated to Bruce Yee, a young athlete who, in his short life, through his courage and competitive spirit, made our lives more fruitful for having known him."
So reads the small stone marker at the base of the flagpole in Eastlake's Reeves Road Park, which became Bruce Yee Memorial Park.